Low Carb Bounties with only 5 ingredients
Advertising. This post contains affiliate links.
Can you imagine that these wonderful candy bars are really healthy? They are indeed! And best of all, the Low Carb Bounties taste almost the same as the original. I am totally thrilled with the healthy chocolate dream, so of course the heavenly recipe is also available for you today.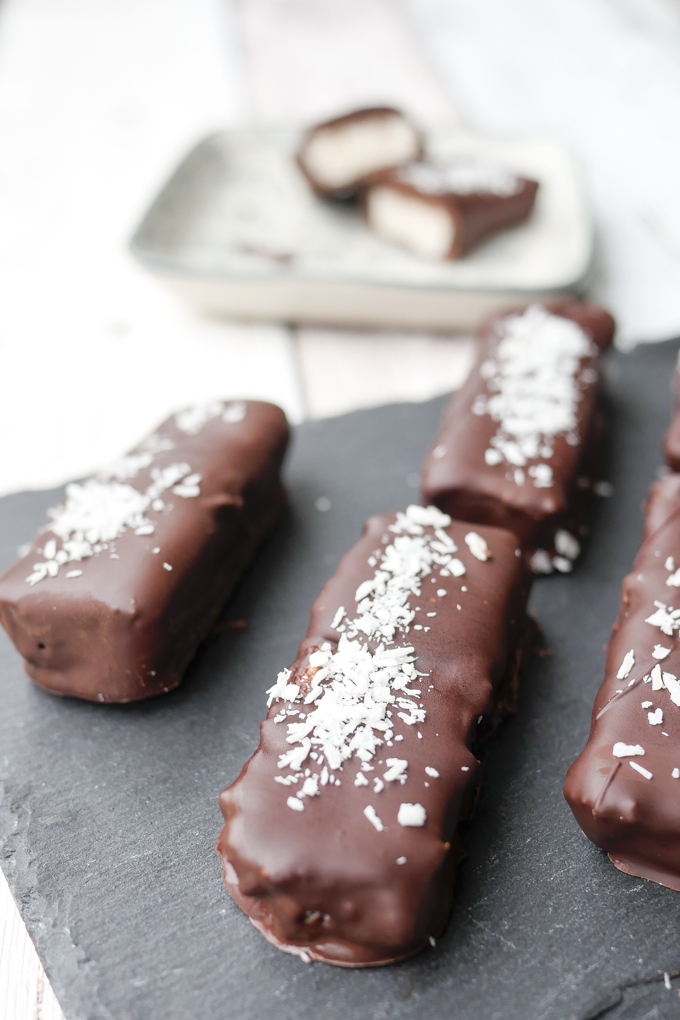 Low Carb Bounty's
You'll only need a few ingredients for the delicious coconut bars with dark chocolate. They are made easy and fast and my new healthy chocolate pieces. My husband could not believe that the delicious snacks actually have few carbohydrates and that you can enjoy them without regret. Okay, of course not all bars at once. ;)
In summertime, the delicious bounties also taste great as ice cream - low carb bounty ice. A dream!
Coconut bar with only five ingredients
You need coconut grated, coconut oil, dark couverture, Xucker or coconut blossom sugar and coconut milk for the delicious coconut bars. You do not need more for the healthy, exotic seduction! The delicious bars are perfect for the chocolate addiction in between and also a great alternative to Christmas cookies. For all chocolate fans there is another low carb chocolate recipe with addictive factor on the blog. :)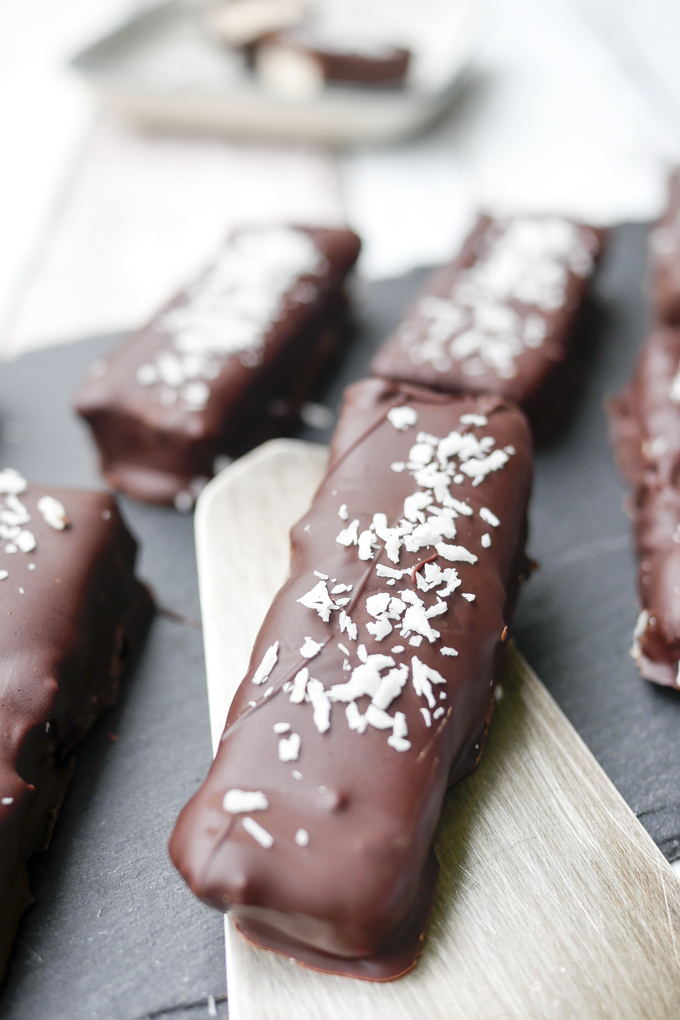 Step by step to your bounty bar
First, coconut milk, coconut oil, coconut oil and xucker are kneaded into a dough, from which the bars are then formed.
After an hour in the freezer, the Bounty bar then dipped in melted couverture.
And now you just have to wait for the chocolate to dry.They're made easy and fast, and my new healthy chocolates.
Ingredients
200

ml

coconut milk

200

g

Grated Coconut

60

g

coconut oil

> room temperature

2

EL

Xucker or coconut blossom sugar

200

g

dark chocolate coating (min. 85% cocoa)
Instructions
Pour coconut milk, grated coconut (except 1 tbsp), coconut oil and sugar into a bowl and knead into a dough. Form small bars from the coconut mixture, freeze them for about 1 hour.

Melt couverture in a bowl over the hot water bath. Immerse the bars individually in the couverture, drain and place on a tray covered with baking paper.Goerg Premium Organic Coconut Milk - 6 cans - 400 ml *
Dr. Goerg Premium Organic Grated Coconut - 300g * Dr. med. Goerg - Misc.
offer
Xucker - Food & Beverages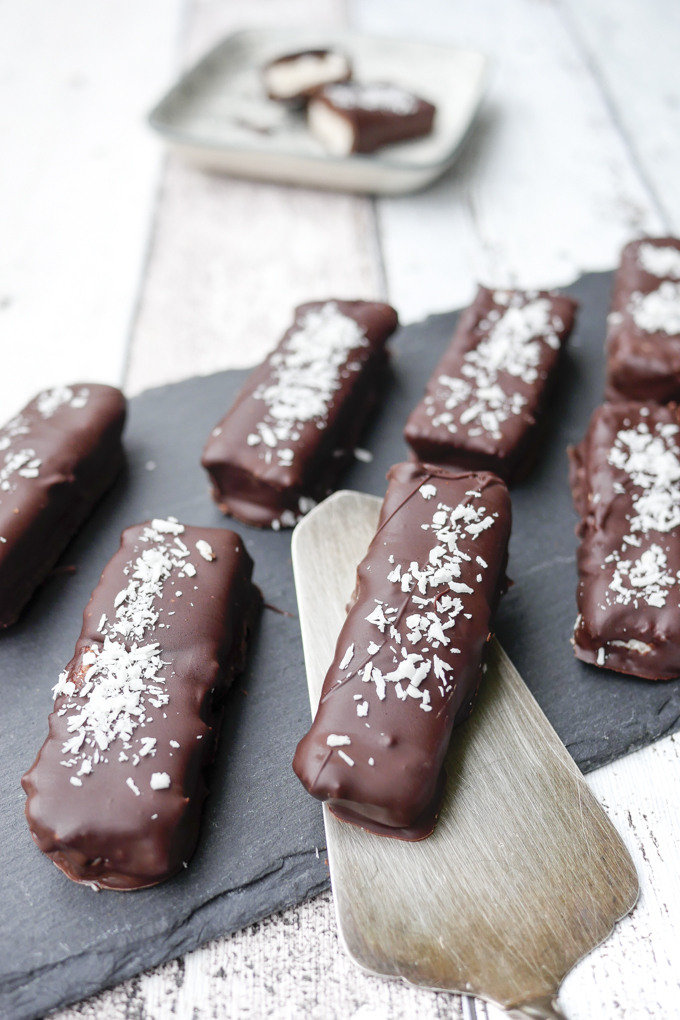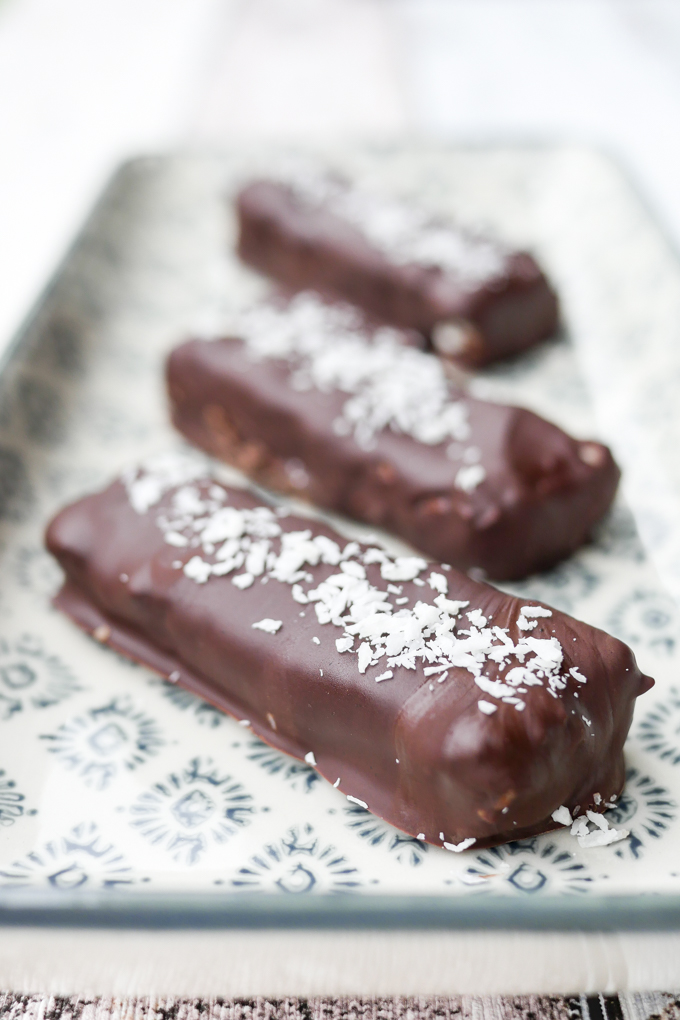 * THIS CONTRIBUTION CONTAINS AFFILIATE LINKS. LEARN MORE: PRIVACY POLICY