Healthy banana ghosts for Halloween
2 SP ads. This post contains affiliate links
Halloween is upon us. And since I really like creepy snacks, there is already a suitable recipe idea for you today. Perfect for little witches and Halloween monsters. The ghastly-beautiful banana ghosts are a real eye-catcher on the Halloween buffet and invite all children to a delightful scare.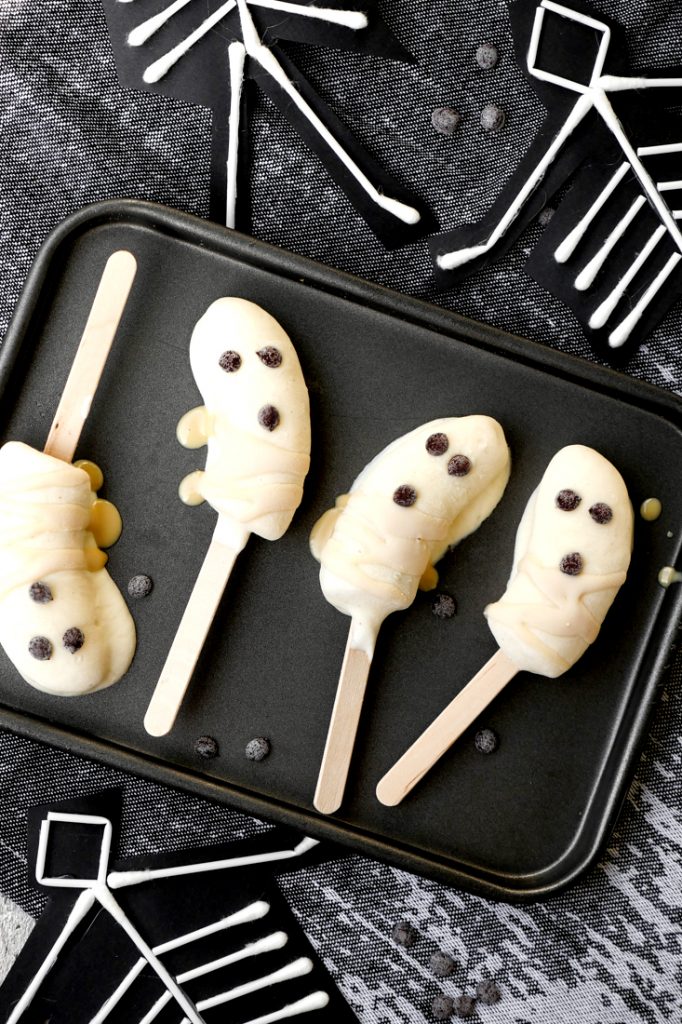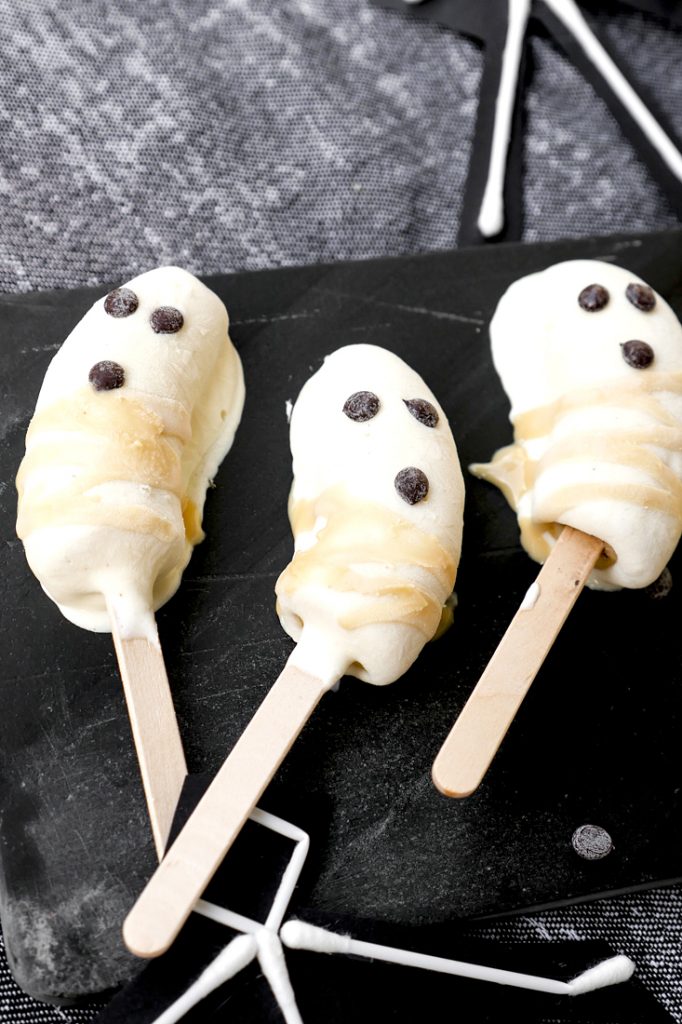 Banana Ghosts for Halloween
The preparation of the banana ghosts is totally simple. First, the bananas are peeled, halved and put on ice stalks. Then the little ghosts are wrapped in a yoghurt cream and decorated with almond purée and chocolate drops. After a little break in the freezer, the grueling party can start.
The sweet spirits are especially popular with children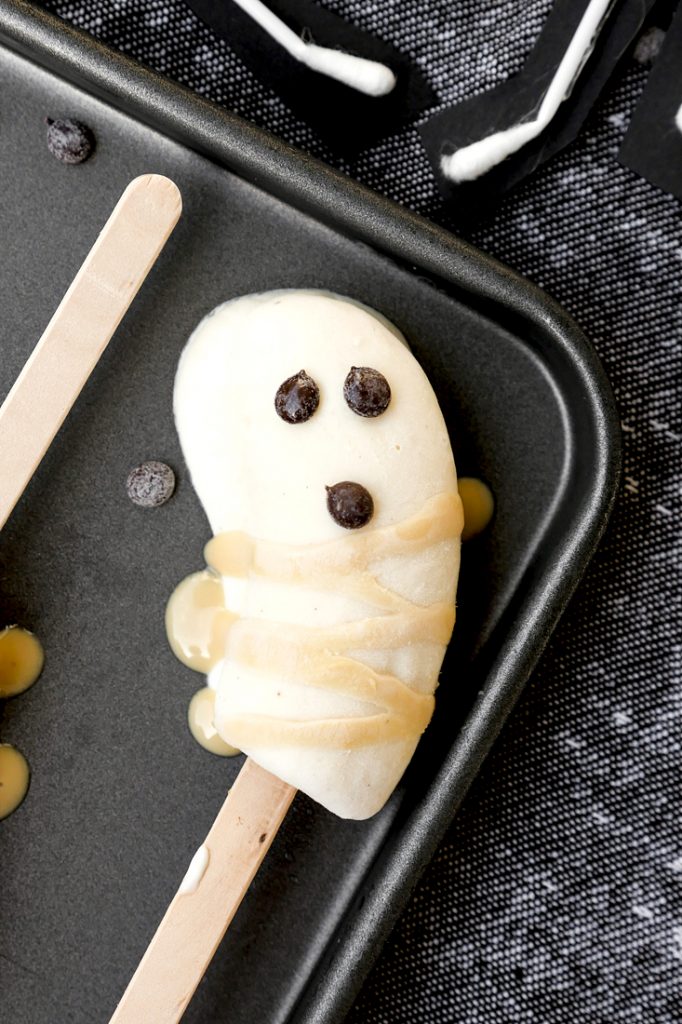 Blogger week "Healthy Halloween"
With my scary spirits, I participate in Blogger Week Healthy Halloween . From hearty to sweet recipes everything is here.Put the tin with the bananas in the freezer for 30 minutes.
Mix the Greek yogurt with the maple syrup and the ground vanilla in a bowl. Dip the frozen bananas in the yoghurt, put them back on the baking sheet and freeze for another 30 minutes.
Now, with the chocolate drops, decorate the eyes and with the help of a food syringe the" shackles "with the almond paste.
Freeze the banana ghosts for about 2 hours.
Good to know
2 WW SmartPoint per banana mind
The recipe idea is modified from here.
Scary Skeletons - Crafting for Halloween
The crafting instructions for the skeletons made of construction paper and cotton swabs, I've found in the book Easy Crafting Kids: Funny projects in a maximum of 5 steps. A beautiful craft book with simple instructions that are also feasible for hobby muffle like me:)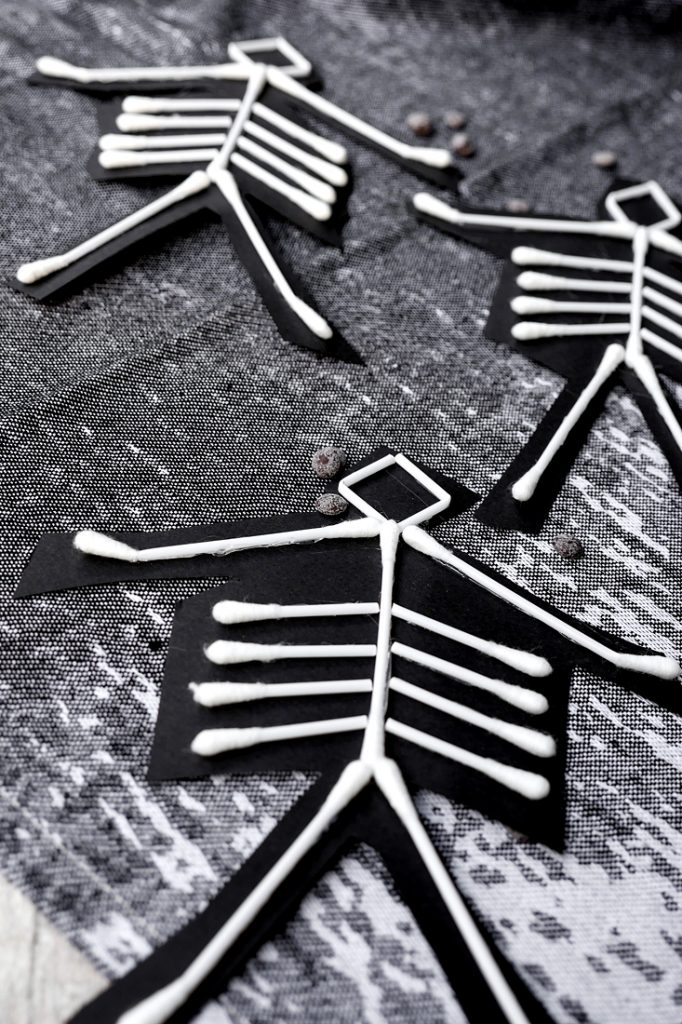 What you need:
10 cotton buds in white per skeleton
construction paper, black
hot glue gun
scissors
Here's how it works:
Prints the cotton swabs in the shape of a skeleton on the construction paper. For the arms and legs, slightly bend the rods sideways. Moisten the cotton swabs with a little hot glue and stick to the paper. Now cut out the construction paper in square cuts around the skeleton.
Display
Easy Crafting Kids: Funny projects in a maximum of 5 steps * Swantje Lindemann, Verena Wöhlk Appel, Daniela Fugger - Publisher: Edition Michael Fischer/EMF Verlag - Edition No. 1 (13.03.2018) - Hardcover : 128 pages
offer
Pattex Hot Pistol hot glue gun/glue gun with mechanical feed and heat-insulated nozzle/set with Pattex hot glue gun + 6 glue sticks, Ø 11 mm *