Low Carb Big Mac Roll/Big Mac Wrap
9 SP
Dear Ones ! Today I have a real blast recipe for you! In recent weeks, I have seen photos of the Low Carb Big Mac Role on Instagram so often and get really excited about the recipe. And you know what? The Big Mac role, or the Big Mac Wrap is awesome! The delicious low carb recipe is super filling and so delicious! Even my husband, a self-confessed Low Carb hater, enjoyed the healthy fast food really well. That is quite something! :)
The Best Low Carb Big Mac Roll
Recipes for the Low Carb Big Mac Roll are already available, usually with a mustard, ketchup and yogurt sauce. I honestly did not like it that much, so I worked a little bit for you.
The result is the best Big Mac role ever!
My Big Mac dressing really comes close to the real Big Mac sauce. Juhu! Wonderfully spicy and the hit with the fast low carb roll! For me the most delicious Low Carb Big Mac role ever!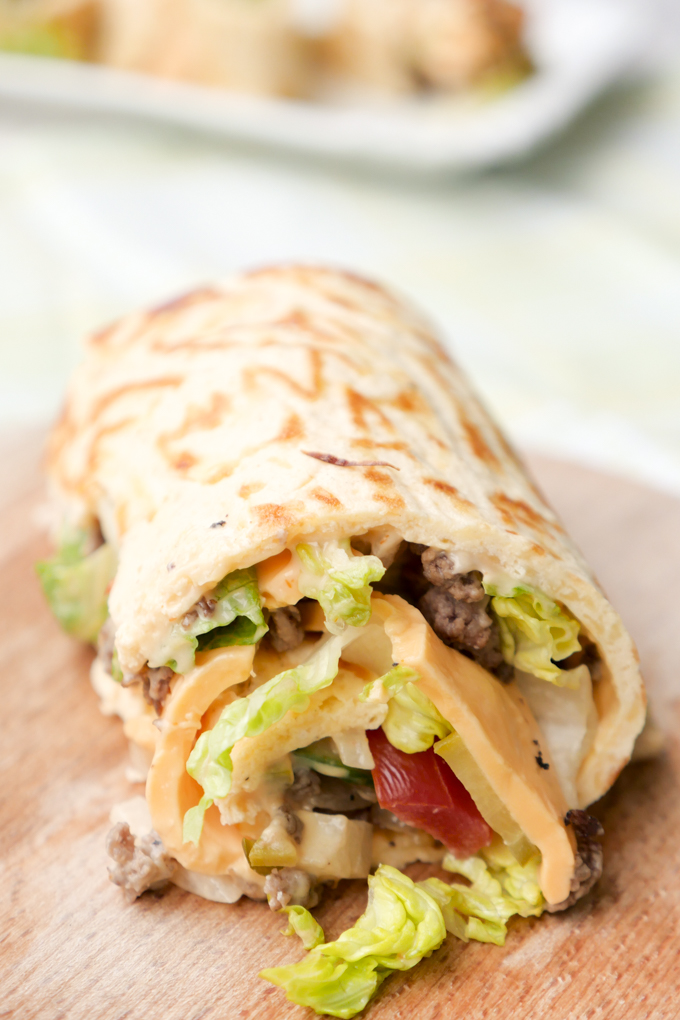 The dough in my low carb roll is Skyr instead of skim curd cheese (since there are zero Weight Watchers SmartPoints), eggs and grated cheese. I then have the delicious roll with salad, minced meat, tomatoes, cucumbers, cheese and onions. So all the ingredients that you can not miss on the real Big Mac.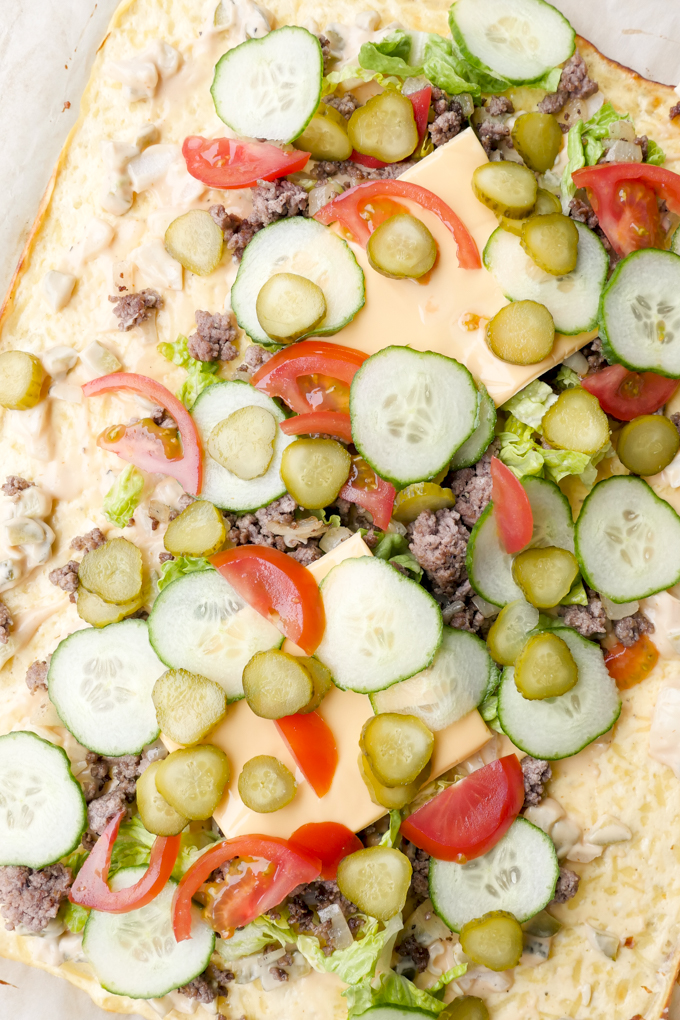 Healthy Fast Food
Who likes to eat burgers and looking for a low-calorie option, should definitely try the Big Mac role. With 9 SmartPoints per person, the Low Carb Classic is also absolutely Weight Watchers fit !Very filling and absolutely delicious!
Ingredients
Ingredients for the dough:
250

g

Skyr

Alternatively low-fat quark

100

g

grated cheese

3

Eggs

1

TL

pizza spice
Dressing Ingredients:
3

Pickles

1/2

onion

1

Garlic Clove

4

EL

mayonnaise

eg

Place the mixture on a sheet of baking paper and bake in a preheated oven for 20 minutes.
Finely dice the onion. Heat oil in a pan and fry the minced meat together with the onion cubes, seasoning with salt and pepper.
For the dressing, cut the gherkins, half onion and garlic into small cubes. Put the cucumber, onion and garlic cubes with mayonnaise, ketchup, mustard, white wine vinegar, salt and pepper in a bowl and mix with a dressing.
Slice the gherkins and the cucumber. Halve the tomato and cut into slices. Wash the salad and cut it into small pieces.
Remove the dough from the oven. Now coat with the dressing and top up with minced meat, cheese, tomatoes, cucumbers and salad. Roll it into a roll using baking paper.
Slice the roll and enjoy! If you want, you can heat the Big Mac rolls in the oven for a while, then the cheese melts particularly well.
Good to know
9 Weight Watchers SmartPoints pro Person, if you use Tatar.
You also get onion and garlic cubes as TK Ware. I highly recommend it.
Let's enjoy the wonderful low carb Big Mac roll!
If you try my recipe have, then I'm really happy about your comment, your link to Instagram or Facebook or a Pinterest share:)